Description
Transform your van into a cosy haven on the road with our insulated window covers for vans.
Designed by vanlifers and made in Australia by experienced seamstresses with recycled materials, these high-quality window covers are the ultimate addition to your road trip around Australia. But, please allow around 2-4 weeks for our seamstresses to make them in Byron Bay with care.
Custom shaped to fit perfectly into your windows and with strong magnets keeping them in place, you won't have to worry about getting woken by any unwanted lights or noises. With added insulation, they also help regulate the interior temperature of your van so you can get a good night's sleep whatever the season. 
Whether it's a busy campground or brightly lit street, our van window covers will make sure your cosy home on wheels feels safe, private and comfortable for the night.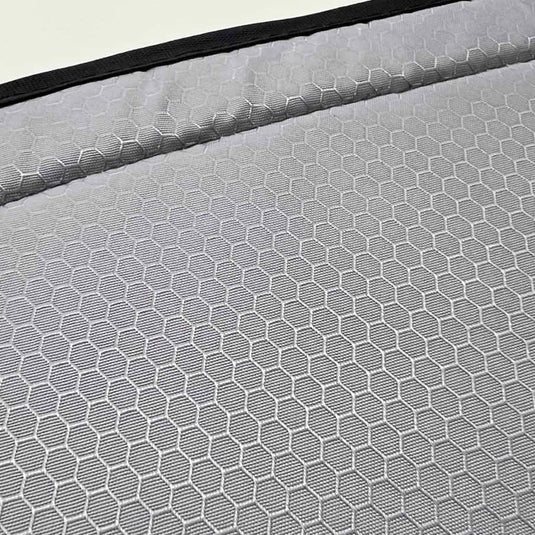 Durable and Long Lasting
Using top-quality market materials in its construction.
Sewn in Australia
Made by professionals seamstresses in beautiful Byron Bay.
Our planet matters to us
Recycled plastic and fishing nets used in our materials.
2022 Sprinter rear window shades
Arrived quickly to WA and well packaged.
High quality and fit perfectly. Too early to comment on longevity or reliability.
Wish I could afford the windscreen and front door covers also.
Happy Campers
Extremely happy, easy to use and givers us total block out.
Bondi 4S rear door blinds
great to get a very quick delivery. These blinds will make it so much easier than drawing heavy curtains. As we are yet to do a road trip with them I can't really comment further other than they are well made and nice fit even though our Sprinter doors are lined the magnets hold well where they can contact the metal and the lower bit that hits the plastic trim sits snuggly so should cause no concern.
Fit well, not sure why so expensive